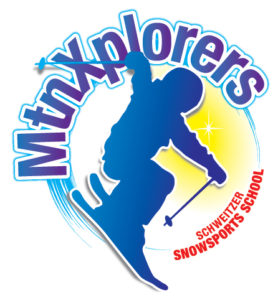 Mountain X runs every weekend from Dec. 17, 2016 through March 26, 2017 plus the two holiday Mondays. Meet us in "The Chute" between the patio and the top of Musical Chairs at 9:30 or 1:00, no need to check in at the office as long as you've already filled out the Registration/Release form. You can also download this pdf version to send in.
Click here to purchase 2016-17 Mountain Xplorers for each of your kids.
Click here to Compare Funatics and Mountain Xplorers and see which is the best fit for you.
GROUP LEVEL DESCRIPTIONS
This year all of our classes are moving to a naming system that emphasizes the skill/ability of students rather than the terrain they ski. This will remove the ambiguity of the color titles, and bring the kids groups more in line with the adult class names.
One of the biggest problems that kids face is being on terrain that is too challenging which causes them to create defensive movement patterns. The new names will help us group kids at an appropriate ability level rather than  tempting us to get them in over their heads.
Having said that, all of the Mountain Xplorer levels are designed for kids who have already progressed beyond Musical Chairs. Their confidence and physical ability is to the point that they can head straight up the Basin Express or Great Escape.
If we have enough kids we will likely form additional groups within each of these levels, based on speed and "aggressiveness".
Wedge Turns+
Comfortable beyond Musical Chairs and have skied  on the Mountain. Skies mainly in a wedge and beginning to use parallel turns.
Parallel Turns
Skis parallel most of the time, uses a wedge on more difficult terrain.
Parallel All  Conditions
Skis primarily parallel, only rarely in a wedge on more difficult terrain.
We found that the online Progress Charts weren't working as well as we liked. We will have hard copy forms that you can see at the Chute when you drop off/pick up your child. This site will continue to have information and pictures, but there won't be individual playbooks for each student.
If you glance through the Playbook you'll notice that it has tasks/activities in four main types:
General, all-purpose drills. These are grouped by Green/Blue/Black to correspond to a higher level of difficulty.
Freestyle moves and features. Again, grouped to show increasing challenge.
Varied Terrain and ungroomed conditions.
Racing and carving related activities.
Throughout the season we will be asking the coaches to all focus on these areas at the same time, in 2-3 week chunks. Obviously we'll have to adapt as the weather and snow conditions require, but this will give the season a more progressive feel and help the kids understand how they're building their skill set.